December 10, 2016
The Challenge of Running Cloud Applications Securely
Organisations are rapidly adopting Office 365 to improve employee productivity, increase flexibility and lower infrastructure costs. However, there are implications for network architecture, bandwidth management, and cloud application visibility.
With a traditional hub and spoke architecture you had to backhaul traffic from remote sites and mobile users to the data centre, when Microsoft Exchange servers and Office applications were 'on-premise'.
Now that apps have moved to the cloud, backhauling all of your traffic to data centres to access Office 365 can create the kind of latency that leads to a poor user experience, as well as increased inefficiencies, delayed deployments and ultimately, a negative view of implementation.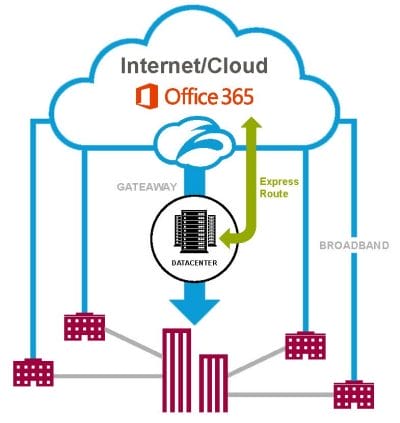 Direct Internet Access with Zscaler
Zscaler for Office 365 enables your organisation to safely and effectively embrace Internet-based cloud applications like Office 365 without any changes in your existing network infrastructure.
As the world's largest cloud security platform, Zscaler makes Office 365 deployment easy, providing users with a fast Internet and Office 365 experience via local internet breakouts, while maintaining the highest level of security for internet traffic.
Best user experience – Fast path to Office 365
Rapid deployment – Hours, not weeks
Impressive value – Reduced MPLS spend
Real-time visibility – see all Internet and Office 365 traffic
Proven deployment – with over 700 customers
Simply point your Internet and Office 365 traffic to the closest Zscaler data centre (100+ worldwide). There is no hardware to deploy & manage, plus since traffic is routed locally, you can reduce your MPLS spend.
Read more about network latency issues when deploying Office 365 – or get the big read and download our comprehensive 20-page guide on how to avoid network latency & bandwidth issues when migrating to Office 365.